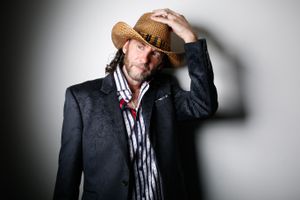 Bio
Alistair Sherwood Graduated with a Fellowship in Singer/Songwriter Acoustic Guitar Playing from The Three Counties School of Music in Association with The University of Gloucestershire in 2016. His Americana Album release "The Mountain" received extensive airplay in both America and Ireland during 2007. Featured artists included the British Fiddle playing royalty of Chris Haigh responsible for the massive line dancing Hit 5,6,7,8 by Steps. And Jay Van Rensburg former member of South African metal band Lithium plays passionately while performing an amazing melodic lead guitar solo on the title track. 
Born in Dublin Ireland in 1964 Alistair is no stranger to the business of entertainment his mother Patricia played piano and church organ for an Irish President and his father Wesley tread the boards of an Amateur  Dramatic Society.
Alistair caught the attention of The London Irish Circuit during 1997 - 2007 he performed 1,000 Solo gigs over this 10 year period, often in venues where the top Country and Irish singers like Daniel O Donnell,  Johnny McEvoy, Brendan Shine and Philomena Begley would take to the stage.
Other successful seasons followed with an RCSherriff Trust Literary Award for Poetry in 2014 and  Joint Winner  with Naomi Thomas in Hersham's Got Talent 2016.
An Interview with the Irish Music Magazine followed the launch of a new Album and Alistair received a full page Feature in the December Issue of 2017. Dublin City Radio acted with interest and Alistair featured in a 2 hour show with K.Kelly.  
Alistair also traveled The British London / South East Folk and Art Centre Circuit. "Kent Folk" Music Magazine Reviewed his 2014 Album Release "Grounded" "An excellent Guitarist and Singer" "Brilliant Singalong"
Currently teaching for The Surrey Arts in local Primary and Secondary Education keeps him busy. However The Singer Songwriter Troubadour Covers is a show he is passionate about launching "I use to hear these songs coming in on my dad's radio and i just love that 68-78 period of American Troubadours" "I will be available to perform these songs in concert style at Theaters, Art Centres and Folk Clubs"
Alistair plays Acoustic Guitar, Ukulele, Banjo, Harmonica, Tambourine and Foot Stomp, An Accompaniment carefully crafted to compliment the event. "His vocal style is reminiscent of Mike Scott, Nick Drake and Bob Dylan" "a unique clear soft tone of singing I could hear every word clearly"
This Show promises to be a very popular event, the buzz that surrounds this highly prolific, influential, and melodic story telling period will be a trip down memory lane for all who love these Troubadours. 
For more information on shows please sign up with Alistair's mailing list or to make a show booking visit the Venues Website.
"An Excellent Guitarist and Singer" "Brilliant Singalong"  Kent Folk Music Magazine 2013